Normal Use
The SmartMax Tachometer Module integrates a 16 character LCD readout and key pad.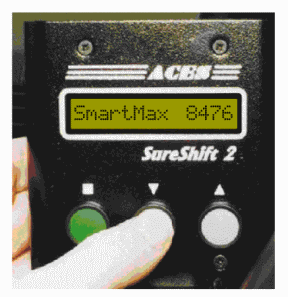 In normal operation the Control Module provides a high accuracy readout of the current engine RPM and at the press of a key the Max. RPM values for the last run are recalled.
Using the keypad, the SmartMax RPM & Peak RPM for the last run can be displayed on the LCD. Max RPM values for the previous 3 saved runs can also be recalled at the press of a key.
Configuration
The system can be programmed with 6 different configuration profiles to allow the user to quickly change between different vehicle or driver setups.
For each profile the following parameters can be set using the keypad:
Shift down / Low RPM Level
First Pre-shift Warning Level
Shift RPM Level
(Intermediate shift light RPMs are set automatically at equal stages between the First Pre-shift and Shift RPM levels)
Number of Engine Cylinders
SmartMax filter value
Flashing or constant LEDs at shift RPM
LED brightness (6 levels + off)
As the settings are stored in non volatile memory, the system will not lose its configuration profiles or Telltale readings when power is removed.
The profiles and readings can therefore be changed or reviewed with the unit removed from the vehicle if required.