Somes ECUs only produce a low voltage output (eg EU3 system on some Caterhams) - the ACES system needs to "see" a voltage rise to at least 8 Volts.
Fitting a 10k resistor between the signal wire and 12 volts should raise the voltage high enough (first check with ECU manufacturer that this will not damage the ECU).
Alternatively, the sensitivity of the SureShift system can be increased by a simple modification on the main board. This will work fine if the signal is obtained from the tachometer drive supplied from an ECU, but may make the unit susceptible to spurious pulses if connected to the switched side of an ignition coil.
To carry out this modification, remove the 8 countersunk M3 screws which retain the lid and carefully turn the lid downwards being careful not to strain the push-button wires.
Locate resistor R13 (see photos). This has a left to right orientation and is located in the lower right hand quarter of the main board between the larger blue rectangular capacitor C13 and the integrated circuit IC4. There may be some hot-melt glue partly obscuring the resistor.
Locate R13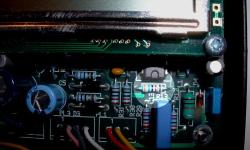 Carefully cut the leg of the resistor and either remove the resistor completely or just ensure that it will not become reconnected (eg if subjected to vibration).
| | |
| --- | --- |
| Cut | Remove |
When refitting the lid, take care not to trap the push-button wires between the case and the lid.
---
© 2003 ACES (Adams Computer & Electronic Services) Limited - Issue 1