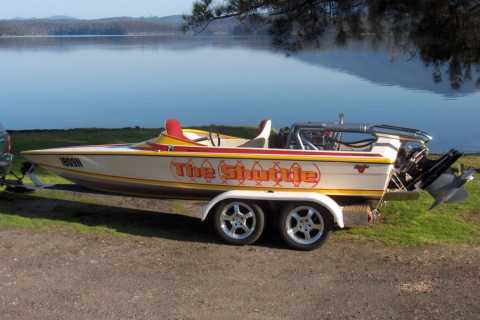 Ian Barry's 6 Litre Chevrolet Engined Water-ski Racer
Ever thought about using a shift light in a boat? Well a shrewd Australian water-ski racer, Ian Barry, considered just that! Whilst there was no requirement to change gear, it was vital to know the precise RPM of the propeller shaft as this was directly related to speed through the water and it was necessary to comply with strictly imposed speed limits.
Ian considered that by using our multi-stage programmable shift light system he would be able to monitor RPM extremely precisely simply by viewing the display of ultra-bright LEDs. As a result he would be able to get as close as possible to the speed limit without exceeding it.
The challenge was made more difficult because the speed limits are set relative to land speed and not speed through the water. As a result, on a flowing river, a higher RPM is required on an upstream section than on a downstream section in order to maintain a given speed. We suggested that Ian would be able to configure different profiles for different RPMs and so would be able to quickly switch between the profiles when changing between upstream and downstream sections.
The following gives some feedback from Ian after his first few races using our shiftlight system which he has kindly allowed us to quote:-
26 Nov 2006

Raced the Top End Challenge 60 mph class at the Sydney Bridge to Bridge over the weekend. (Boats/drivers/skiers come from all over the world to compete). By just using your shift lights we were able to run the first leg down river with a max speed of 59.2 to have an 18 sec lead. On the return leg the river was running at between 0.8 - 1.0 mph so I was able to adjust the shift lights to another preset range (I have them set at 0.5 mph segments). We were well in front until we lost one of our skiers; got up to finish 2nd with a max speed of 59.7 mph. Your shift lights are the best thing.

Being able to see the lights at all times keeps the average speed up because you know exactly where you are. The lights are extremely accurate, I set the last red light to come on at 5430 rpm (we did 5431 rpm) - this is the best little black box.

10 Nov 2006

Raced with too much success last week, got a 1st and 2nd at 59.8 mph (should have been two 1st's I stuffed up). They think the shift lights are also a rev limiter, so I will have to take out the white wire as I find the shift lights so valuable I can't have them banning your shift light set up. With the shift lights alone I can drive within 0.5 to 1.0 mph of my target speed - that's good enough.

I guess we did too good. Ha! Ha!

Thanks for all your help.

29 Sep 2006

... the shift lights are excellent to drive to, keeps you on your toes, a lot better than trying to read a GPS or tacho ...

... I have the shift lights set so the green light is on until 58.5mph the other lights come on at 0.25mph intervals I can drive within 0.25 - 0.5 of 60mph ...

... the way you set up the computer to be able to change the settings on the run is excellent, very easy, works well in the river between up and down stream. Have sent a pic of the boat showing the set up.


Cockpit view showing SureShift 2

GREAT STUFF. Well done, all the best, and thanks.
---
© 2006 ACES (Adams Computer & Electronic Services) Limited